2012 Texas A&M Football Preview
Posted on July 5, 2012 by Jacob Bunn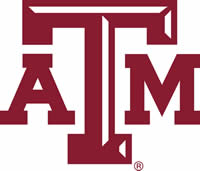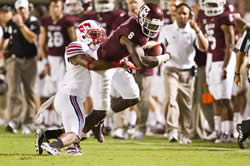 After a 6-6 regular season, the 2011 version of the Aggies defeated Northwestern in the Meineke Car Care Bowl of Texas. That was after a coaching change had been made. 2012 will be the first season for Texas A&M under the leadership of new head coach Kevin Sumlin. Additionally, it will be the first year for the program in the SEC. There will be a great deal of adjusting in store for the Aggies this year.
A&M does have a large number of returning starters, but a coaching change coupled with a rigorous SEC West schedule makes it almost impossible for Texas A&M to be a division title contender this year.
2012 Forecast: I think it will be a struggle for the A&M this year. I just cannot see this new SEC program beating Alabama, LSU, Arkansas, Florida, or Auburn in year one.
Offensive player to watch: #33 Christine Michael – JR – running back
Defensive player to watch: #92 Jonathan Mathis – SR – defensive tackle
Aug. 30 – Louisiana Tech (College Station) – Win 31-20
Sept. 8 – Florida (College Station) – Loss 17-10
Sept. 15 – SMU (Dallas) – Win 24-14
Sept. 22 – South Carolina State (College Station) – Win 42-7
Sept. 29 – Arkansas (College Station) – Loss 14-10
Oct. 6 – Ole Miss (Oxford) – Win 29-27
Oct. 13 – Off
Oct. 20 – LSU (College Station) – Loss 34-12
Oct. 27 – Auburn (Auburn) – Loss 24-10
Nov. 3 – Mississippi State (Starkville) – Loss 26-17
Nov. 10 – Alabama (Tuscaloosa) – Loss 24-14
Nov. 17 – Sam Houston State (College Station) – Win 35-21
Nov. 24 – Missouri (College Station) – Loss 34-24
Projected record: 5-7 (1-7)
Welcome to the SEC, Aggies. Just take a look at the run of contests on the schedule in November. If Texas A&M manages to make it to bowl eligibility, I think it will be a tremendous accomplishment.
*Wins are in Maroon, losses are in Black, and home games are in Bold.
Tweet Tweet this!
Email Jacob at jacob@bunnsports.com and follow him on Twitter at @JacobBunn